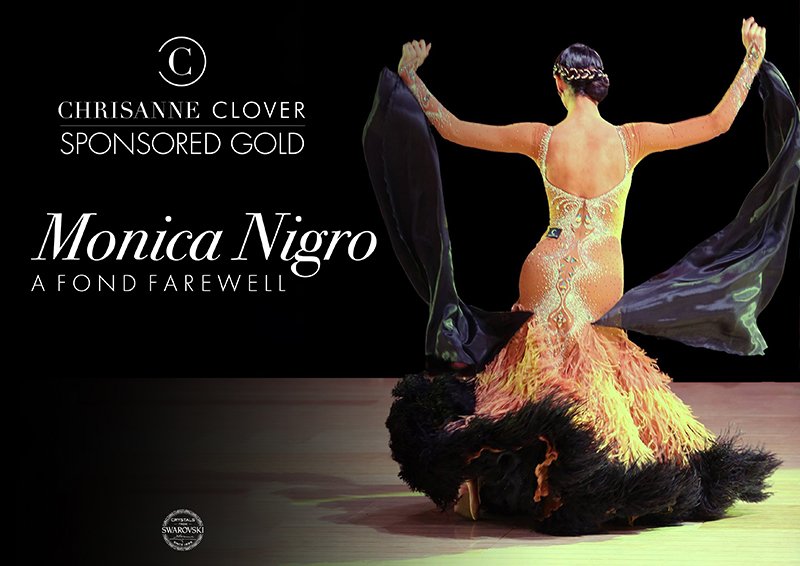 Through many years of sponsoring Monica Nigro with the most gorgeous couture that she wore on dancefloors around the world, everyone at Chrisanne Clover wishes Monica all the best in her new ventures. She will be sorely missed.
Valerio Colantoni & Monica Nigro started dancing together in 2014 (December) as Professional for Italy.

Their first competition was in England - Bournemouth on 2015 (January). Their best mark is winning the Professional Open Standard (World Cup Universal 2019 in China - Shenzen on Monday, 28 October 2019).

They joined together after Valerio and Yulia Spesivtseva split in 2014 (November) and Monica and Domen Krapez split in 2014 (December).
257... I still remember it... the number that changed my life, where it all began, where everything magically came to life... a life called dance: 34 years! 34 long years full of passion, total devotion, of immense love for this art form that brightened my life, turned it upside down, changed it forever and helped to make me the woman and professional that I'm... in these 34 years I've been through moments of immense happiness, moments of success, moments that kept me entertained, laughing and loving until I got emotional... and others where the tears rolling down, were for all the tears Efforts, sweat, defeats, sacrifices that few have seen, but everything necessary to forge and toughen the noble spirit of the ballerina serving a greater purpose: emotional through dance... I traveled far and wide through the world making a promise to me: carry the magic of dance, in the eyes and heart of anyone who would have met me... and so it was...
There comes then a time in your life when circumstances make you look inside with honesty and courage... and I personally needed time to accept, reflect and find a way to best express how I feel in this moment of great change ... in these special circumstances, completely new to me, I want to convey to you with complete serenity that the Monica Valerio partnership has come to an end... as all-important experiences in life this decision brings with it many emotions, some conflicting, but surely many teachings that will be valuable to me and I take this opportunity to wish Valerio good luck, whatever path he chooses to take... I want to reassure anyone who reads this post that my choice has taken into consideration many factors, life points and above all the love I feel for dance and myself... and it's really respect for myself as a woman and as a professional, that gave me the courage to make this decision... I learned that in life, beyond The things you do, where you do it, who you do it with, is of primary importance never loose self-love, respect and self-esteem... only so you can bring magic into other people's lives...
| | |
| --- | --- |
| | |
Throughout this time I have had the chance to meet wonderful people that I thank from the bottom of my heart: my family, friends, colleagues, dancers, pupils, teachers, sponsors to whom I wish to have a wonderful future full of personal and work successes... Know that you will always have a special place in my heart... thank you for everything you have done for me!
I hope with all of myself that my experience will be inspirational in your life... surround yourself with people who have the heartfelt desire to share a life journey with you and can't wait to support you to fly high to your dreams... Avoid being taken for granted... but above all always have respect for yourself, your personal value in any area and be brave enough to be FREE to choose each day without fear!
With immense gratitude and deep love... MONICA.
#timetoshine in life as in dance